The Clean Water Partnership was recently highlighted at the North Carolina Coastal Federation Sound Economic Development Summit. Close to 200 North Carolina business leaders, coastal business owners, local and out-of-state leaders and state agency officials met at an economic development summit to discuss ways to boost the state's economy through environmental improvement.
The group looked to states like Maryland and Virginia to find answers on how to use and protect the North Carolina's coast for economic prosperity. Prince George's County in Maryland, situated towards the eastern side of Washington, D.C., was cited as a success story in stormwater management at the summit.
When local waterways leading out to the Chesapeake Bay began to feel the effects of polluted runoff and the United States Environmental Protection Agency issued a mandate to clean up the waters, the county took action by creating a community-based public private partnership, the Clean Water Partnership, in 2015.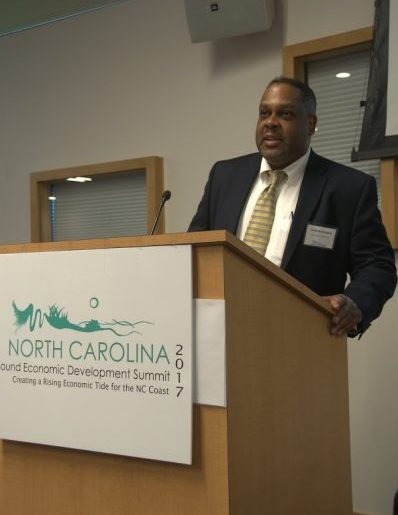 David Washington of Prince George's County's Clean Water Partnership speaks to the crowd about the initiative.
Photo Credit: Ashita Gona
David Washington, director of program operations with the $100 million partnership, said that the county partnered with Corvias Solutions, a firm that specializes in helping foster sustainable communities. Together, the group and the local government have set out to achieve the EPA's mandate to remove 15,000 impervious acres by 2025.
In the process of doing so, Washington said the investment focused on creating jobs and opportunities for local residents. As part of the project, a goal was set to employ local, small and minority-owned businesses to do 30-40 percent of the work.
"We've exceeded that. We're at 76 percent," Washington said.
In addition, the project also promotes education and skills by creating a mentor-protégé program and investing $460,000 in student internships. The first phase of the project is underway, with plans to deliver up to 2,000 impervious acres by spring of 2018.
Click here to read the rest of the story written by Ashita Gona over at the Coastal Review