Landover, Maryland, June  17, 2016 – Corvias Solutions is excited to announce its partnership with Junior Achievement (JA) of Greater Washington to perform stormwater retrofits at JA Finance Park® Prince George's County located on the campus of G. James Gholson Middle School/Cora L. Rice Elementary Middle School in Landover, Maryland. The work will be performed under the Clean Water Partnership (CWP), a groundbreaking community based public-private partnership(CBP3) between Prince George's County (the County) and Corvias Solutions to retrofit up to 2,000 acres of impervious surfaces using green infrastructure and drive local economic development by using local, small and minority businesses to build local capacity.
"We are thrilled to team up with Junior Achievement, an organization that shares our commitment to sustainable practices, to give scholars a first-hand look at the Clean Water Partnership," said David Washington, Program Executive for the Clean Water Partnership. "Corvias Solutions is proud to support the communities of Prince George's County and we look forward to providing a space where young residents can learn the benefit of green infrastructure."
Through a partnership with Prince George's County Public Schools System, signature sponsor Capital One, and the local business community, JA Finance Park impacts every 8th grade student in the County through 14-weeks of in-classroom personal finance curriculum taught by their teacher and an innovative, experiential 1-day experience at the facility led by volunteer role models from the community. The program provides students with a vigorous, hands-on budgeting experience, as well as exposure to an environmental solution to managing stormwater runoff.
The location currently has three bio-retention devices located in the front of the facility, and one in the back, that has been revitalized to improve its performance and appearance. The completed project encompasses:
A massive bed of natives plants that process stormwater and provide habitats and food for nearby wildlife;
Plants that includes pollinators to feed butterflies and hummingbirds; and
A walkway consisting of permeable pavers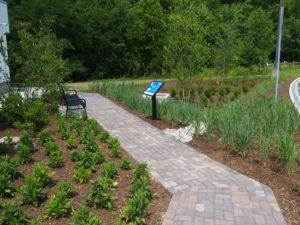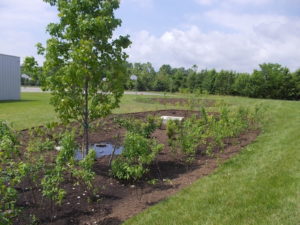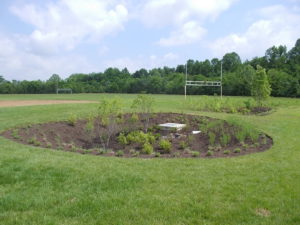 "The Corvias and Junior Achievement partnership is a great example of what's possible when the public and private sectors come together to make the community a better place," said Ed Grenier, President and CEO, Junior Achievement of Greater Washington. "These stormwater retrofits inspire students to understand both the environmental and financial implications of future choices, giving them a look at ways they can save money in the future and ensure a brighter, cleaner future in our region."
Benefits include a decrease in maintenance spending as a result of cost-saving stormwater collection and re-use, as well as the promotion of environmental awareness. The goal of this program is to provide students a glimpse of the work being instituted into the county through the Clean Water Partnership.
The project's design and construction was completed by Minority Business Enterprises, Bradley Site Design and Green Forever, furthermore showcasing the CWP's commitment to working with the small minority business community.
The unique partnership provides a great example of the private sector, government, and public school system coming together to help equip the youth of Prince George's County with a sense of financial readiness and environmental stewardship.
To learn more about Junior Achievement Greater Washington, please visit www.myja.org.
To learn more about the Clean Water Partnership, please visit www.thecleanwaterpartnership.com
About the Clean Water Partnership
The Partnership is a groundbreaking public-private partnership between Prince George's County and Corvias Solutions to retrofit up to 2,000 acres of impervious surfaces using green infrastructure.  Further, the Partnership is also tasked with driving local economic development by using local, small and minority businesses to build local capacity. www.thecleanwaterpartnership.com