On June 13th, the Clinton Global Initiative (CGI) America held its sixth annual conference in Atlanta, Georgia, bringing together leaders in business, government, and nonprofits, to develop and discuss solutions for economic growth, long-term competitiveness, and social mobility in the United States.
The CGI, an initiative of the Clinton Foundation, convenes global leaders to create and implement innovative solutions to the world's most pressing challenges, and ultimately focuses on turning ideas into actions. A defining feature of CGI is their Commitment to Action – a specific and measurable plan for addressing a significant global challenge. To date, more than 3,400 commitments have been made by members of the CGI community, including the commitment to action made by Prince George's County, MD and Corvias Solutions, to perform a bench-marking study of the county's new and innovative Community-Based Public Private Partnership (CBP3) water investment model known as the Clean Water Partnership.
The focus of this year's Plenary Sessions were centered around how attendees could increase social mobility, bolster education and workforce development, and invest in critical infrastructure such as transportation systems, broadband, and wireless connectivity and the electric grid. The CWP commitment to action – which focuses on addressing the water quality of the Chesapeake Bay, while simultaneously emphasizing the needs of county residents and local, disadvantaged, women- and minority-owned businesses – was one of five commitments from the private, public, and nonprofit sectors highlighted on stage with former President Bill Clinton.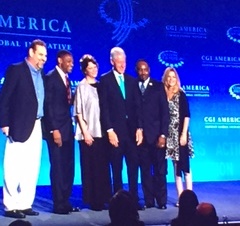 Roland Jones, director of central services for Prince George's County, delivered the remarks on behalf of the partnership, providing a summary and progress update of the Partnership's commitment in front of approximately 1000+ attendees.
If you would like to view video highlights of the CGI America conference, you may do so by accessing the Clinton Global Initiative YouTube page or by clicking here.