Via Press Release
The innovation is the latest from a partnership of University of Maryland researchers, county officials, nonprofits, and private-sector leaders.
COLLEGE PARK, Md. – A new stormwater basin in Suitland, Maryland harnesses a drinking water treatment waste product to remove nutrient pollution from runoff that ultimately flows into the Chesapeake Bay, where excess nutrients lead to dead zones.
The bioretention basin is the first of six slated for construction across Prince George's County thanks to a collaboration between The Clean Water Partnership (CWP), The Low Impact Development (LID) Center, and the University of Maryland (UMD). Construction at the Suitland site is expected to wrap up in mid-November.
"Stormwater pollution is a local problem with significant downstream implications, which is why it's so important that organizations like these work together to approach the issue in innovative ways," said Peter Littleton, Corvias senior operations manager and CWP team member. "These basins will turn traditional and in some cases degraded storm drain systems into assets that the communities and county can be proud of."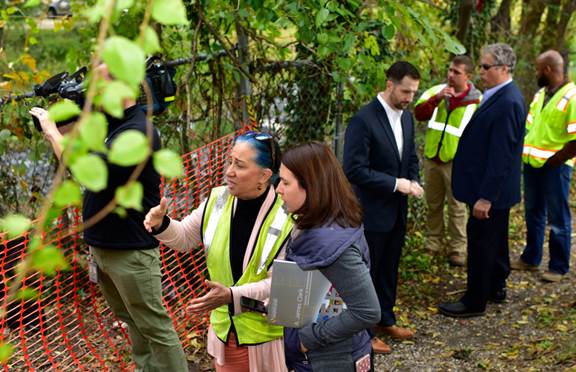 Launched in 2015 to meet clean water regulations from the U.S. Environmental Protection Agency, CWP is a first-of-its-kind collaboration between the county government and the private-sector company Corvias. The group received around $600,000 earlier this year from the National Fish and Wildlife Foundation (NFWF) to design and build six bioretention basins enhanced with a novel treatment media that could elevate their effectiveness.
"Each basin will include an aluminum-based material traditionally discarded as waste from the drinking water treatment process," said Charles A. Irish Sr. Chair in Civil Engineering Allen P. Davis, who has worked closely with Prince George's County to improve stormwater management for over two decades. "When phosphorus interacts with this material, it binds to it, trapping the pollutant in the basin."
Davis has been researching the use of aluminum-based water treatment residuals in stormwater management for 10 years—the first installation to use the media was built on the College Park campus in 2011 with funds from Prince George's County and NFWF. This latest project offers the opportunity to demonstrate the new technology's eligibility for the Maryland Department of the Environment's list of practices allowed under a municipal stormwater permit.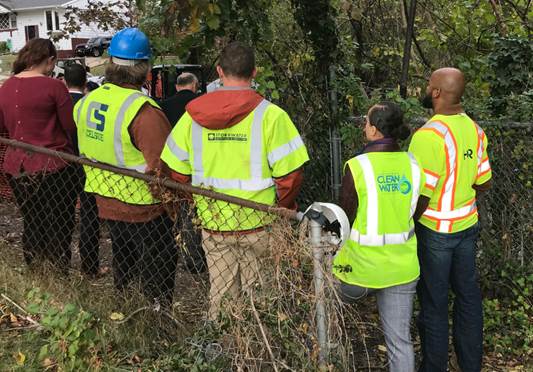 Over the next approximately 18 months, Davis and Department of Civil and Environmental Engineering graduate student Blake Wang will measure the phosphorus, nitrogen, and sediment loads flowing in and out of the Suitland basin using automated samplers. The researchers will also employ a rain gauge set to register as little as a hundredth of an inch of rainfall.
Final removal rates will be shared with the state so other counties charged with improving water quality in the Chesapeake Bay watershed can determine whether the innovative medium would help them meet their pollution reduction goals.
In addition to Suitland, enhanced basins will be installed in Adelphi, Upper Marlboro, Bowie, Temple Hills, and Hyattsville, treating a total of 10 drainage acres. Three additional basins are scheduled for completion this fall with project management support from The LID Center, a non-profit national research center focused on sustainable stormwater management.
The remaining two also will be designed, constructed, operated, and maintained by CWP beginning in the spring.
"We are proud to support the partnerships and innovation at work in this project," said Jake Reilly, director of Chesapeake Bay programs at NFWF. "It's a textbook example of how our Innovative Nutrient and Sediment Reduction grant program is able to drive down the cost and increase the pace of restoration in the Chesapeake Bay watershed."
###
The A. James Clark School of Engineering at the University of Maryland serves as the catalyst for high-quality research, innovation, and learning, delivering on a promise that all graduates will leave ready to impact the Grand Challenges (energy, environment, security, and human health) of the 21st century. The Clark School is dedicated to leading and transforming the engineering discipline and profession, to accelerating entrepreneurship, and to transforming research and learning activities into new innovations that benefit millions. Visit us online at www.eng.umd.edu and follow us on Twitter @ClarkSchool.
CONTACT: Anjanette Riley, ariley12@umd.edu, 301-405-2057 (o)
Melissa Andreycheck, mandreyc@umd.edu, 301-405-0292 (o)